Personalized Poolballs Set - Cool Style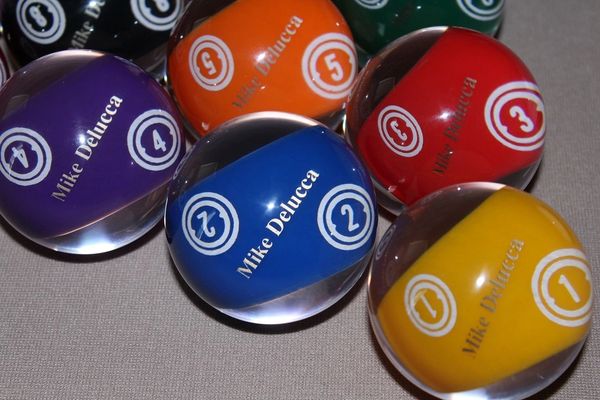 Personalized Poolballs Set - Cool Style
The Coolest Custom Pool Balls ever!!  Building off the success of our original customer billiard set we now offer this new style with all the same quality.
* Our newest custom billiard ball set and Only Available at CoolPoolBalls
* This new style is made to the same high tolerances and durability as our classic Customized Poolball set
* These are our highest quality clear billiard balls, embedded with your personal text inside the balls.
* Have your name, initials, or even your company/organization name engraved INSIDE each ball. Up to 25 characters (including spaces).
* Your message will never fade, chip or rub off.
* All balls in the set are Regulation Size, however, they weigh 4 ½ ounces which is slightly less than regulation weight - the action on the table is just the same as the regulation weight balls.
* Please allow 2-3 weeks for this custom order
* Note Custom Orders May Not Be Returned
* We will exchange and replace in rare cases of a defect
Set of 16 (15 + Cue Ball)
Reviews